What is the difference Between Agglomerated and Freeze-Dried Coffee?
Coffee is typically derided, yet it may be a real-life savior, in a pinch. Coffee can be a lifesaver when you're camping, traveling, or waking up one morning to find your coffee maker has crossed the rainbow bridge.
Coffee has gone a long way thanks to contemporary technology. The days of a weak or burnt-tasting brew are long gone. Also, many other types of coffee are there. Here I discussed the difference between Agglomerated Coffee and Freeze-Dried Coffee.
Just find the best Wholesale Roasted Coffee Beans providers near you like simplify b2b and visit them to take advantage of them and Buy wholesale coffee at a reasonable rate than other wholesalers.
Definition
Agglomerated Coffee:-
Agglomerated coffee is simply spray-dried instant coffee that has been specifically treated to produce a form that is more easily dissolved in coffee preparation, resulting in the best aroma and taste. Agglomerated coffee is coffee that has the powder added to it after it has been dried and then has a steam belt or steam curtain applied to it, causing the particles to bind together and form granules. At extremely low temperatures, the thick, concentrated liquid coffee gets frozen. In a regulated procedure, the water is removed, yielding big, golden coffee crystals.
The agglomeration process increases the solubility of the coffee powder and converts it into more appealing granules. This procedure entails rewetting the surfaces of the coffee powder particles and bringing them into touch in order for them to stick together and form larger, more granular particles. This is accomplished by tumbling coffee powder in the air while exposing it to steam.
Freeze Dried Coffee:-
In the coffee market, freeze-dried instant coffee is currently a new trend. In general, freeze-dried coffee has higher scent retention than spray-dried or agglomerated coffee. As a result, it has a premium coffee scent and is marketed as a high-quality instant coffee. Instant Coffee (freeze-dried coffee) is dried and re-aromatized at as-cold-as-frozen temperatures, preserving the aroma of freshly roasted coffee beans.
Freeze-dried coffee is kept in a cold, dry, room-temperature environment, close and tight, and out of direct sunlight. Because freeze-dried coffee is easily damaged, treat it with caution. Freeze-dried coffee retains its flavor integrity while remaining practical and portable thanks to contemporary freeze drying technologies.
Difference in Taste
Agglomerated Coffee:-
Coffee granules, also known as agglomerated coffee, is well-balanced instant coffee with a smooth and mellow flavor. Because this coffee is easily broken, it should be stored in a sturdy container such as jars or tins.
Storage requirements:
This type of coffee is stored in a cold, dry, room-temperature environment, keeping it close, tight, and out of direct sunlight. Because agglomerated coffee is easily broken, use caution when handling it.
Freeze Dried Coffee:-
The low-temperature drying technique aids in the preservation of outstanding flavor, with a rich scent and no bitterness. As it dissolves in water or milk, it can be savored hot or cold, creating a fresh brew experience.
Storage requirements:
Coffee that has been freeze-dried can be preserved for years: Freeze-dried coffee can endure for months or even years, and it doesn't need refrigeration or special care to stay "fresh." Unlike dehydrated foods, they can also be rehydrated quickly.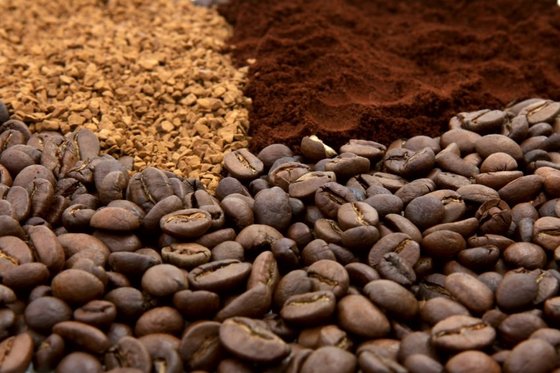 Procedure
Agglomerated Coffee:-
Agglomerated Instant Coffee is made from a special combination of green coffee beans that have been meticulously picked. Before extracting clear liquid, these beans are roasted to the specified roasting conditions. After removing all non-soluble components, the liquid is further treated to evaporate the moisture and then sprayed onto a tall tower to produce a soluble coffee powder. This powder is then steam-processed to make beautiful granules, which reduce fines in the finished product.
Freeze-Dried Coffee:-
Freeze-dried coffee is made in a reasonably straightforward manner. In big commercial vats, coffee grounds are brewed as usual. The resulting coffee liquor is then passed through evaporators to concentrate it further. After that, it's foamed and frozen. The concentrated coffee is next pulverised into particles, and the ice crystals within the particles are removed via a sublimation process.
Packaging
Agglomerated Coffee:-
Because agglomerated coffee is easily damaged, it should be packaged tightly and securely. A jar (made of plastic or glass) is the most suited container for storing coffee granules. Tin cans are also a popular packing material for coffee granules because they are firm, tight, and neutralized, which helps to preserve the aroma of the coffee. A resealable and refillable stand-up pouch with a zipper (or zip-lock) is very convenient. However, don't put a valve for pure instant coffee inside a stand-up pouch since the valve will destroy the instant coffee inside by allowing outside moisture to get in. To suit customer demand for a rapid serving espresso coffee cup in today's busy environment, coffee granules are packaged in single-serve packets such as small sachets or sticks (most likely 2 grams per unit).
Freeze-Dried Coffee:-
A glass jar will complement your freeze-dried coffee to a tee. A plastic container is also an excellent option. Glass jars, on the other hand, are far superior because freeze-dried coffee is premium instant coffee, and a glass jar will perfectly maintain the coffee aroma for an extended period of time. The sanitized, tight, and sturdy glass container will keep the freeze-dried coffee within in a proper manner. With this type of coffee, a tin can be useful. Although tin is not as clear as a glass jar, it is more durable and safe to transport. As a developing demand for rapid serving single-serve espresso coffee, freeze-dried coffee, like agglomerated coffee, can be packaged in retail packs such as stand-up pouches with zippers, compact sachets, or 2-gramme sticks.
About us
SimplifyB2B, a publicly-traded company that is a Coffee Bean Wholesale Supplier, was founded more than 25+ years ago with the goal of creating the world's finest and most delicious coffee. Our infrastructure is excellent, and we have a global clientele base of over 90 nations. Over the last two decades, we've grown to become the world's leading instant coffee exporter and private label manufacturer. We are providing the best Agglomerated and freeze-dried coffee at reasonable prices than other manufacturers.
If you want to contact us then just visit us by clicking on Simplify B2B or just email us at simplifyb2bmarketplace@gmail.com or call us - at 094350 47969
Simplify B2B
India's largest B2B marketplace for tea and coffee. Buyers benefit from transparent wholesale price, wide selection, and ability to chat live with wholesalers of bulk tea and coffee